Di Redmond | Rucksack
Sat 22 Apr 2023 | 12:00pm - 1:00pm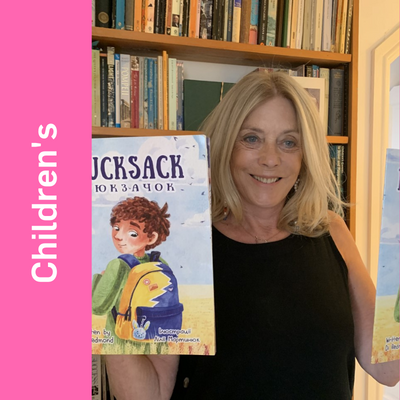 Di Redmond
A boy loses his rucksack with all his precious memories. Travelling though war zones and patrol crossings he re-enters the country he was forced to leave and finds new memories, new friendships – and a new rucksack! "RUCKSACK" is a children's picture book for the 100,000 displaced children of Ukraine.   
With text in both English and Ukranian, this picture book will help educate children from all backgrounds on displaced people, as well as fundraising to support Ukraine. 
Proceeds will be donated to Cambridge4Ukraine and Children and War UK . 
This is a family friendly event suitable for children 3+ 
Venue: Cambridge Union Library
Duration: 1hr
Choose your tickets:
Author biography
Di Redmond has published over 100 books, she has written scripts for most of the major broadcasters in the UK and Europe – Bob the Builder, Postman Pat, Fireman Sam, Angelina Ballerina, Jim Henson, Aardman and Disney. Her on-going work is a WW2 saga series for Penguin Books. Bomb Girls is rated on Amazon's top 100 bestseller list. Di is also Audio-Visual Board Director for ALCS – Authors Copyright and Licensing Society in London. 
Your tickets have been added to your basket