Tessa Hadley & Margaret Drabble | The Swinging Sixties | Online
Sat 14 Jan - Mon 30 Jan 2023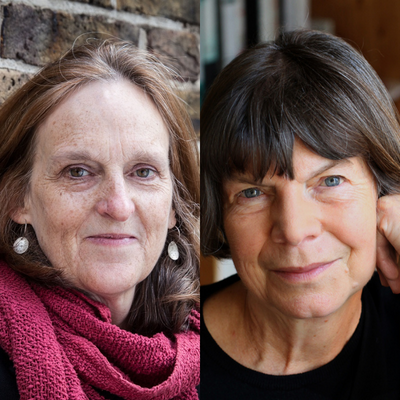 Tessa Hadley & Margaret Drabble
Tessa Hadley's latest novel Free Love charts one woman's sexual and intellectual awakening in 1960s London. As part of her research, she read the novels of Margaret Drabble. Dame Margaret Drabble published her early books in the 1960's and these first novels describe the life of young women during the 1960s and 1970s, for whom the conflict between motherhood and intellectual challenges is being brought into focus. Join two of our finest novelists for an unmissable conversation about life, love, and the Swinging Sixties.
In conversation with Dame Gillian Beer
Venue: Online
Duration: 1hr
Choose your tickets:
Author Biography
Tessa Hadley is the author of seven highly praised novels, Accidents in the Home, which was longlisted for the Guardian First Book Award, Everything Will Be All Right, The Master Bedroom, The London Train, Clever Girl, The Past, Late in the Day and three collections of stories, Sunstroke, Married Love and Bad Dreams. She won a Windham-Campbell prize for Fiction in 2016, The Past won the Hawthornden Prize for 2016, and Bad Dreams won the 2018 Edge Hill Short Story Prize. Her stories appear regularly in the New Yorker.
Dame Margaret Drabble was born in Sheffield in 1939 and was educated at Newnham College, Cambridge. She is the author of nineteen novels including A Summer Bird-Cage, The Millstone, The Peppered Moth, The Red Queen, The Sea Lady, The Pure Gold Baby and The Dark Flood Rises. She has also written biographies, screenplays and was the editor of the Oxford Companion to English Literature. She was appointed CBE in 1980, and made DBE in the 2008 Honours list. She was also awarded the 2011 Golden PEN Award for a Lifetime's Distinguished Service to Literature. She is married to the biographer Michael Holroyd.
Chair Biography
Professor Dame Gillian Beer was the King Edward VII Professor of English Literature at the University of Cambridge from 1994 until her retirement in 2002 and is a former President of Clare Hall College. She is now Emeritus Professor and an Honorary Fellow of Clare Hall and Girton Colleges. She is a Fellow of the British Academy and of the Royal Society of Literature. Gillian is President of the British Association for Literature and Science and General Editor of Cambridge Studies in Nineteenth Century Literature and Culture. Among her books are Darwin's Plots: Evolutionary Narrative in Darwin, George Eliot and Nineteenth-Century Fiction (1983, third edition 2009), Open Fields: Science in Cultural Encounter (1996) and Virginia Woolf: the Common Ground (1996). Her most recent book is Stations Without Signs (2022), published by Hazel Press. 
Your tickets have been added to your basket