Timothy West | Pru & Me
Thu 16 Nov 2023 | 8:00pm - 9:00pm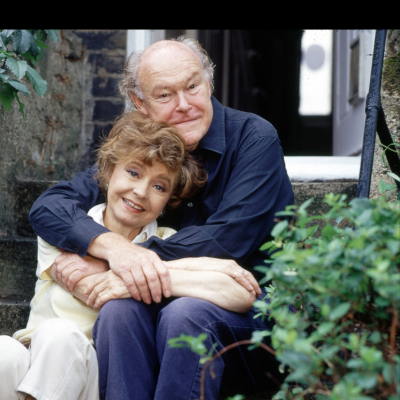 Star of British theatre and television Timothy West presents his memoir, Pru & Me. After almost sixty years of marriage, Tim and his wife, fellow actor Prunella Scales, have a truly unique partnership. Tim traces their united steps through life professionally and personally, covering the highs and lows of caring for Pru since her dementia diagnosis, twenty years ago. 
In conversation with ghostwriter James Hogg. 
Venue: The Babbage Lecture Theatre, David Attenborough Building
Duration: 1 hour
Event supported by

Choose your tickets:
Author biography
Timothy West is a British actor and television presenter. His acting career has spanned across various mediums, from theatre stages to radio and television. Timothy is known for his roles in Brass, as well as for his appearances in Coronation Street and Eastenders, and from his travel show Great Canal Journeys where he shared the screen with his wife, Prunella Scales. Prunella is an English actress, who received accolades for her performances in Fawlty Towers and A Question of Attribution. The couple have been married for almost sixty years.  
Chair Biography
James Hogg is a collaborator, ghostwriter and biographer who specialises in sport and entertainment. He began his writing career whilst working for the Yorkshire County Cricket Club, writing two acclaimed biographies: What's the Bleeding Time? on the actor and naturalist James Robertson Justice, and Little Ern: The Authorised Biography of Ernie Wise, collaboration with writer Robert Sellers, who also worked on James's next book, Hello Darlings! The Authorised Biography of Kenny Everett. His first project as a ghostwriter was the Torvill & Dean bestseller Our Life on Ice. In 2015 James contacted the actor and explorer, Brian Blessed, about collaborating on a memoir. The result, Absolute Pandemonium, became one of the biggest selling non-fiction titles of the year and spawned a sequel, The Panther in My Kitchen. 
In the last seven years James has written over twenty titles. His most recent book, which topped the Sunday Times bestseller list, is Surviving to Drive. He is currently working with the actor, Timothy West, on Pru & Me. 
Your tickets have been added to your basket