Wes Streeting | One Boy, Two Bills and a Fry Up
Mon 3 Jul 2023 | 6:30pm - 7:30pm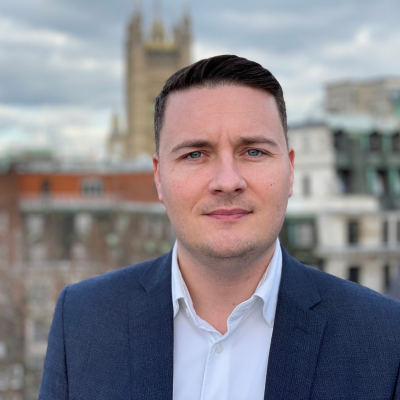 Wes Streeting
'Compulsive reading: Wes's story is inspiring, surprising and full of compassion.' — Jess Phillips
One of the Labour party's most prominent front bench MPs, Wes Streeting, is returning to Cambridge with his funny, honest, and at times heart-breaking memoir.  
Wes Streeting has gained respect for his pragmatic yet principled approach to politics. But it could all have been very different. He grew up on a council estate in Stepney, East London, the son of teenage parents who struggled to provide for him.  
One Boy, Two Bills and a Fry Up focuses on his early years and brings to life the struggle and heartache of his parents' and grandparents' lives in poverty and the impact that this had on his upbringing; the choices they had to make about whether to feed the meter and heat the flat, put carpet on the floor, or food on the table. With warmth and affection, Wes describes the strong characters who made him what he is and the community, values and sense of humour that forged his formative years.  
The book also paints a portrait of the life-changing power of education. Encouraged by a series of inspirational teachers, Wes won a place at Cambridge, there beginning his political vocation as President of the NUS. Having struggled to come out to family and friends he later became Head of Education at Stonewall.  
This honest, uplifting, affectionate memoir is a tribute to the love and support which set Wes Streeting on his way out of poverty, and informs everything about his mission now in politics.  
In conversation with award winning producer and presenter, Catherine Carr.
Venue: Palmerston Room
Duration: 1hr
Choose your tickets:
Author biography
Wes Streeting is a Labour MP and the Shadow Health Secretary. He read History at Selwyn College, Cambridge and began his political vocation as President of the National Union of Students. Afterwards he became Head of Education at Stonewall and served in local government, before being elected as an MP in 2015. 
Chair biography
Catherine Carr is an award winning producer and presenter, who has worked in audio for over 20 years. Since leaving Radio 4, where she reported for and produced programmes like Woman's Hour and You and Yours, she has created and launched three popular podcasts:  'Relatively' 'Talking Politics' and her newest , 'Where Are You Going?'. She is currently working on two documentary series for BBC Radio 4, making podcasts for brands including the British Army and has started working on a book about siblings.
Your tickets have been added to your basket