David Reynolds & Andrew Marr | Churchill & the Leaders Who Shaped Him
Sat 18 Nov 2023 | 10:00am - 11:00am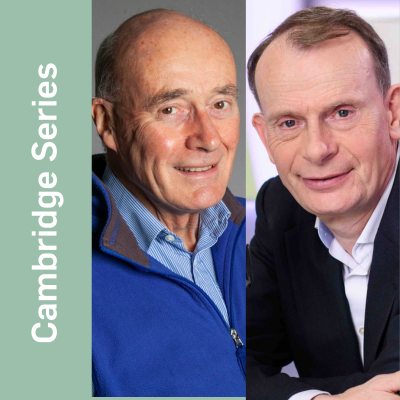 Prize-winning historian David Reynolds and journalist and broadcaster Andrew Marr discuss Winston Churchill, one of our most talked-about historical figures, in the light of David's new book, Mirrors of Greatness.
How did contemporaries from home and abroad – including Hitler, Roosevelt, Stalin, Lloyd George, Chamberlain, Attlee, Gandhi and de Gaulle – shape the career of this dazzling yet flawed political giant?  
Venue: TTP Stage (Cambridge Union)
Duration: 1 hour
Choose your tickets:
Author biography
David Reynolds is the award-winning and bestselling author of twelve history books and Professor of International History at Cambridge University (Christ's College). He was elected a Fellow of the British Academy in 2005. His book awards include the Wolfson Prize and the PEN Hessell Tiltman prize. David has written and presented critically acclaimed films and documentaries for both BBC TV and Radio 4. He is an Honorary Patron of Cambridge Literary Festival.  
Chair biography
Andrew Marr is a leading political commentator, journalist and broadcaster. Andrew joined the start-up team of The Independent as political correspondent in 1986. He has been political editor of The Economist and Scotsman, and chief commentator of The Independent and editor, 1996-8. He was also a political columnist for The Observer and Express, 1998-2000. He worked as political editor of the BBC 2000-5, has hosted 'Start the Week' from 2002-present and 'The Andrew Marr Show' (2005-2021). Documentary series include 'The History of Modern Britain', 'The Making of Modern Britain', 'Darwin's Dangerous Idea', 'Diamond Queen' and 'History of the World'. Andrew is the author of twelve books on subjects including history, biography, political theory, fiction and art. Awards include two RTS and two Baftas, "book of the year" for non-fiction plus six awards for political journalism and two radio awards. His first solo painting show opened in Liverpool in June 2017.
Your tickets have been added to your basket